Villa Rachele is a stunning luxury property just a few hundred metres from the beaches, shops, restaurants and services of Gargnano. A new restoration of an ancient traditional Limonaia structure, the villa has stunning views throughout and total exclusive privacy and quiet. With original stone walls and pillars, open onto the terraced Limonaia gardens on many levels, the villa is a perfect blend of indoor and outdoor living in total privacy. Built originally in the 1700s, and completely rennovated in 2015, the villa is steeped in both comfort and history.

The villa sleeps 9 in 4 bedrooms with 4 bathrooms, AC in 2 bedrooms and WIFI throughout. The two lounge areas are luxurious and bright, beautifully furnished with quality designer furnishings. There is a fully equiped kitchen, dining both inside and outside (with Barbecue), stunning views from almost all angles of the house. The outside areas are also fully furnished, with sun loungers along the waterfront, lovely terraced gardens with olives and lemon trees, fully integrated with the house itself, so inside and outside all feel like one perfect space.

There's a Vespa motorcycle available for Villa Rachele's guests


The villa is easy walking distance to the town, lake, shops and restaurants. It is about 300m up a steep narrow road, and we provide a baggage service to bring your luggage up from the parking below to the villa entrance. Because of this special road, the villa has total and absolute privacy usually impossible in a property so centrally located. There is no private parking in front of the villa, but guests are provided with 2 parking passes that will permit parking in any public parking space in the city. There are two public parking lots right below the villa, about 150m from the front door by the pedestrian path (with stairs).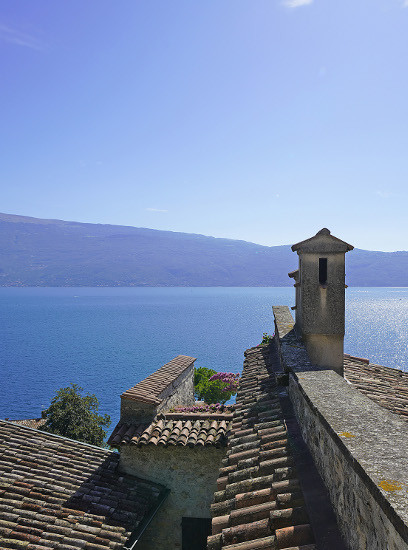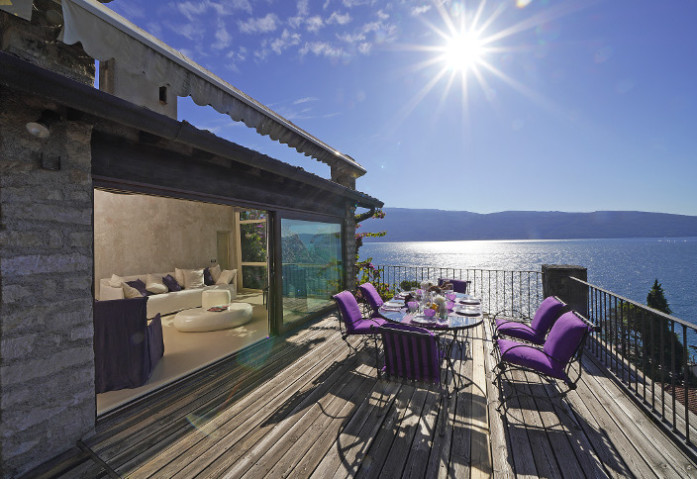 The town of Gargnano, with a ferryboat port and marina, is about 300m down the tiny access road. A city steeped in history and charm, Gargnano started as a monastery in the 1200s, where the monks grew lemons. And from here begins the long and fascinating history of the limonaie of Gargnano. The town blossomed and grew, lemons its principle industry, and it was completely hedged in by mountains and lakes, isolated with access only from the lake until the 1930s when the lakeside highway was built. As a result Gargnano has developed and maintained an extraordinary and unique local flavour and charm. The town has a plethora of quaint small local shops and restaurants. Though only a small village, Gargnano boasts not one, but two Michelin star restaurants: Villa Feltrinelli and Tartugha. And for less formal nights out, there are a number of excellent restaurants and pizzerias, some right on the waterfront with lakeside tables.

Full hands-on luxury service, including professional cleaning, hotel quality linens & towels and concierge service is provided by Holiday-Garda. All of our villas are stocked with starting supply of toilet paper, kitchen paper, napkins, coffee, tea, sugar, salt, and pepper. We also provide a wide range of luxury extra services, including personal chef, masseuse, chauffeur, excursions, airport transfers, villa stocking and much more – see the guest services section of our website (holiday-garda) for more details.

Holiday-Garda guests are always met on site with a personalised checkin with english speaking local experts, who will provide an orientation on both the house and the local area. We also provide a very detailed house manual with a local guide, including restaurant guide, shopping guide, local activities and more; and our concierge director is always available to help you liaise and access any local service.

PROPERTY REGISTRATON NUMBER: CIR 017076-CIM-00079