Villa Bianca is a new, modern and charming villa with a unique location, directly overlooking the lake in the gulf of Salò and enjoying direct and private access to the beach, all with a wonderful view. Convenient to all services, it is comfortable for up to 6 adults and 2 children and is equipped with a new swimming pool with a view and a park of approx. 2000 m2.
Located a few steps from the lakeside promenade of Salò, Villa Bianca is ideal for a relaxing but also fun and peaceful family holiday.
The villa is newly built, has modern architecture and has been designed with great attention to detail for comfort. Adjustable air conditioning in the living area and in the sleeping area.
It consists of 2 independent but communicating apartments with an internal and an external staircase, allowing different family groups to share a holiday with the comfort of independence and privacy but enjoying large common areas that will give unforgettable moments.
From every point of the villa and at any time of the day you can enjoy suggestive panoramas.
In the garden and on the terrace there are relaxation areas with sofas, rocking chairs, a newly built private swimming pool with a comfortable access staircase and sun loungers, the whole area has a beautiful lake view.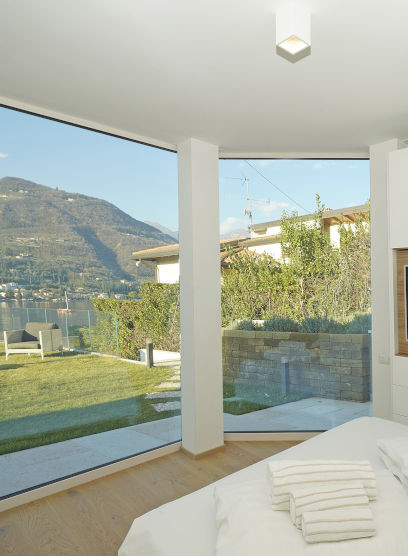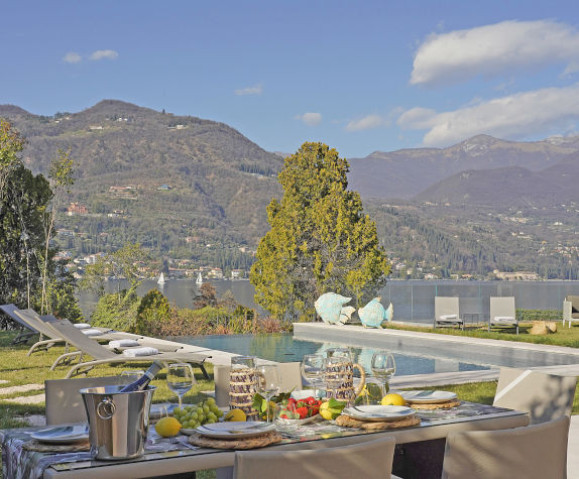 Holiday Garda offers you a complete range of services for your unforgettable holiday. The price includes: professional cleaning, bed linen, bath sponge set and pool towel; Reception and assistance service by qualified personnel. A wide range of services not included in the price are also available: in-villa chef, beauty treatments, chauffeur, excursion arrangements, airport transfers, babysitting and much more. www.holiday-garda.com for more details.


The villa is facing the lake on the Gulf of Salò and offers private access to the beach. It is located a few minutes walk from the wonderful promenade that runs along the beach and the center of Salò. A few steps from the villa there is a new luxury hotel with restaurant and bar.
The city of Salò is a splendid city with a lively cultural and musical life, numerous restaurants for every need and desire and a wide and interesting range of shops. There are numerous beaches and a suggestive 6 km long promenade which runs along the lake.

CIR: 017171-CIM-00094